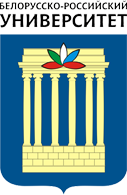 Belarusian-Russian university (BRU) in Mogilev has been established in 1961 as a technical university; from 2003, based on an agreement between Belarus and Russia, it has its current status. Practically it means that the university is divided into "Belarusian" and "Russian" sections adhering to educational standards of the respective countries. Currently it is accredited to Belarusian and Russian ministries of education. Its 6 Faculties provide 16 specialist (for Belarus-accredited programs only), 7 BSc/BA (for Russia-accredited programs only), 15 MSc/MA and PhD (accredited only in Belarus) degrees in civil, electrical, mechanical, IT engineering, and economics. BRU also includes the Institute for Vocational Training (9 programs), Professional College for Construction and Architecture (4 programs), and the Lyceum; 12000 BRU students are trained by over 240 academic faculty.
BRU is positioning itself as an innovative entrepreneurship university, it is also willing to develop for its engineering program a module addressing waste management issues in a systematic way from policy, management and technology perspectives, with EU experience in the field intended to be taken as a reference point.
The university is working towards becoming a truly innovative entrepreneurial university, and it aims to achieve the largest intake of international students compared to other technical universities of Belarus, largest share of ICT-based learning, and flexible response to market and societal demands.
Department of Occupational Health and Safety (OHS) has 16 resident and 3 visiting academic faculty (including 12 members with PhD degrees) deliver courses related to OHS, industrial ecology, energy efficiency, management of industrial and natural hazards, and natural science methodology for all the educational programs run at the university, and supervise master and PhD students. The Department hosts the Research Laboratory of Environmental Technology, and student laboratories for civic defence, safe lifestyles, occupational safety, ecology.